.
.
Virginia specializes in watercolor studies of saltwater fish and other marine art. Her paintings are created using watercolors, a medium that lends itself to vibrant colors and versatility.

Each original watercolor painting is offered in limited editions, signed and numbered by the artist, using "giclée", the finest quality reproduction process. Browse through the gallery to view each image where you will find detailed information about each of the limited editions, including various print sizes, price and availability.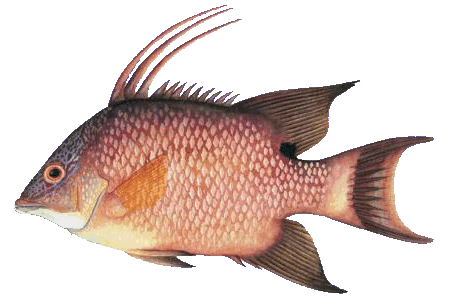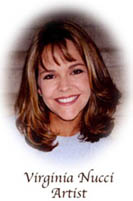 A native Floridian, Virginia grew up in Orlando where she received her Bachelor of Fine Arts from Rollins College. Her company, "Drawn Creations", was inspired by a family name and its interplay with her artwork. She has "drawn" her inspiration from the beautiful coral reef fishes of the Caribbean.

As a child, she enjoyed family vacations at Green Turtle Cay in the Abaco Islands where she would spend her days fishing and snorkeling off the local reefs. She combines her artistic talents with her love of the ocean to create realistic watercolor depictions of saltwater fish and other sea life.

Inspired by the works of the great wildlife artist John James Audubon, her depictions are studies of each fish. "I have always loved the ocean. I am impressed by the natural beauty of the fish and marine life of the coral reefs," Virginia notes. "The striking colorations, distinctive shapes and patterns of these fish are artwork in of themselves." Her work has also appeared in various publications, including "Sport Fishing Magazine." She and her family now reside in Jupiter, Florida.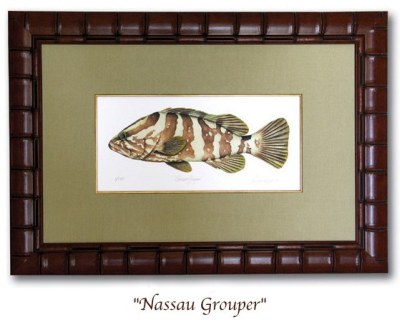 All of Virginia's works are original watercolor paintings. Each original is offered in limited editions, signed and numbered by the artist. The prints are created through giclée (szhee-GLAY) which is the finest quality reproduction process. The French word giclée means "to spray" and refers to the manner in which the ink is delivered to the substrate, whether fine watercolor paper or canvas.

This digital printing method takes an original image that has been scanned into a computer, color-corrects it to get the best match to the original, and prints it directly to the substrate. These museum-quality photomechanical reproductions are the finest available, making them superior investments for collectors.

All of Virginia's giclées are sold in limited editions, and most are available in different sizes. The edition size refers to the number of reproductions available of an original image. If an image is produced in different sizes, each size is a separate edition. When the edition is sold out, availability is solely from private collections at enhanced prices. The collector who invests when the edition is published will have equity in his piece by the time the edition sells out.

You may purchase artwork by contacting the artist via phone or e-mail. Click on the Orders and Contact tab above for details.
Virginia also sells and displays her work at fine art festivals in Florida. Click on Show Schedule tab above to see any upcoming festival appearances.
Thank you for your interest, and "Happy Fishing!"